Hello all,
I'm looking for some advice on a type of medium to use. Most of my drawings are of cars, and to be honest I hardly ever stray from using pencils. I occasionally use watercolours but am not really that experienced with them.
I have been doing a few caricatures recently (I don't know whether this is frowned upon here or not?) and have been trying to find a suitable medium to get a shiny paint effect. I first tried by using tinting with just a white pencil on black paper, using a picture I already had as a study. I found that I can just about achieve similar tints to make the 'shine in the paintwork', but the quality is very poor, and as I'm sure you can see, it is very grainy.
I was wondering if anyone could tell me what kind of medium is likely to have been used to achieve the pink example that I was studying? Would it have been some kind of paint? I don't think it could have been pencil as I'm sure it would still look grainy, even if not so much as mine. Possibly rendered with markers of some kind? I honestly have no idea, and would like to start working in the same medium to achieve a similar effect. My study and the example I was studying from is shown below, I have obviously not begun working on the headlights, bumpers or trim yet - just the paintwork.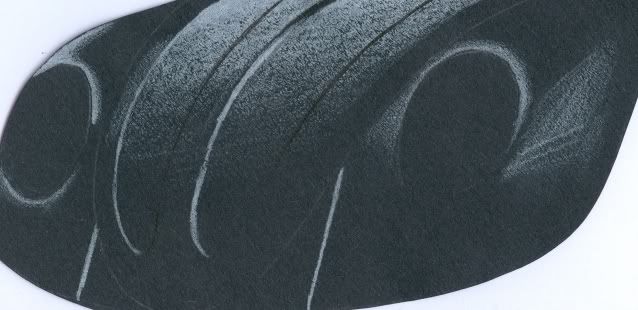 All help and suggestions would be greatly appreciated!
Thanks, Tony